Call-ahead ordering
Many Sparrow's customers enjoy the convenience of calling us to place their orders, and then stopping by later to pick up the merchandise. Whether your order is for a specific product, or for a case that we select to meet your criteria (e.g., red/white balance, style of wine, cost per bottle)—we'll be glad to have your products ready for you. Delivery is sometimes available, too!
Entertainment consulting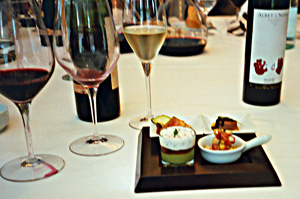 David provides individualized assistance to customers who are planning events, from intimate dinner parties and wine tastings to large receptions and wedding events. He can help you decide on quantity of wines needed, and the perfect pairings for your menu—always keeping your selections within your budget.
Personalized wines
Do you have a special event coming up that you'd like to commemorate with personalized bottle(s) of wine? Sparrow's can help you place an order for a wedding or wedding anniversary, a special birthday, a retirement, or the opening of a new business. Several varieties of wines and styles of individualized labels are available.
Gifts
Sparrow's staff is happy to help you select gifts of wines, spirits, glasses, or books in any price range for the wine lovers on your list. You can even check to see if David is familiar with your recipient's preferences, so that your gift will be sure to please. Sometimes he even knows what products are on a customer's "wish list!" Gift certificates in any amount are available, too.
Product locating assistance
Sometimes customers are looking for a special wine or other product they've enjoyed before. David is often able to help them find what they're seeking.